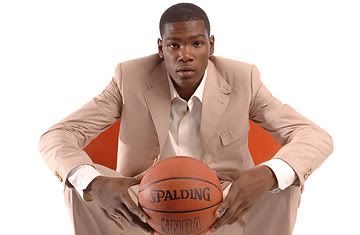 I was in stupefied disbelief when I woke up to text messages and tweets learning of Kevin Durant's exit from Oklahoma City to the Bay Area. KD re-upping for 1 year in OKC just seemed like the prudent maneuver. They were 5 minutes from the Finals, and showed the Warriors a unique type of athletic challenge that even the Cavaliers couldn't replicate, despite winning it all. Golden State is 1 year removed from a title, and a couple months removed from the greatest regular season in history, and led by the first unanimous MVP in league history.
There's no way an historically great team that was a sniff away from it's second title in as many years needs a generational talent like KD to tip the scales further in their favor.
But I guess it's the same reason Coca Cola, McDonalds, and Budweiser still run countless ads on TV and billboards despite being ubiquitously well known; you have to stack the deck to insure market dominance.
Quizzically, I don't love the Durant move to the Warriors. It has a very "rich getting richer" vibe, so it's only slightly ironic that this acquisition took place in the environment of Silicon Valley, where wealth is liquid and omnipresent. I say, "quizzically" because I was a fan of the LeBron James merger in Miami with Dwayne Wade and Chris Bosh back in 2010, which many are comparing this to. There are some similarities in that both James and Durant were at similar points in their careers: proven, transcendent talents with many individual accolades, and both had failed to win a title up to this point in spite of their individual greatness.
That's where the similarities end. These are the HUGE differences in their circumstances:
LeBron James clearly had an inferior supporting cast in his early Cleveland days, and year-after-year the Cav's front office failed to adequately provide LeBron with enough firepower to win. Durant's Thunder at one point featured 3 top-10 players on the same team in KD, Westbrook, and James Harden, along with a Defensive Player of the Year caliber Adonis in Serge Ibaka. Although OKC botched the Harden trade, last year's Thunder had 3 chances to eliminate the Warriors in the WCF, and many people (including Bill Simmons) thought they were the better team. TALENT was not the Thunder's problem.
The Heat had to figure out how to play together on the fly. The 2009-'10 Heat were a mid-tier playoff team that won 47 games, with no real established identity. Durant is going into a system that is already established with players that have already developed chemistry, a culture, and style of play. Did I mention they won a title, and put up 2 of the top-10 biggest point differentials in NBA history?
The 2010-11 Miami Heat without a doubt had 3 top-15 players, but featured a roster as thin as toilet paper after the top 3. Their next best players were an aging Udonis Haslem, who missed most of the year, a young Mario Chalmers, and had 11th and 12th men like James Jones and Joel Anthony logging major minutes.
LeBron James didn't go to a conference rival that just beat him in stunning fashion recently in the playoffs. A more comparable scenario would have been LBJ going to the Celtics in 2010 to join forces with their trio of future Hall of Famers: KG, Paul Pierce, Ray Allen, and budding All Star, Rajon Rondo. THAT would be a fair comparison. Oh, but that comparison is not even fair, because none of those guys (sans Rondo) was in their prime any longer. The only guy in the Warriors top-4 that's tailing out of his prime is Andre Iguodala, and he's still damn good and crucial to their success.
LeBron James comparisons aside, I just can't emphasize the historic nature of this pairing. This is akin to the '97 Bulls adding Shaq or the '87 Celtics adding Jordan. There's no real precedent of a generationally great player, in his prime, going to a historically great team that didn't give up their top 4 guys, who also happen to be in their primes.
Perhaps you could look at the Bill Russell led Celtics dynasty of the late '50s-'60s, who traded for 4-time All Star & 20 PPG scorer Bailey Howell in 1966. But this was on the tail end of winning 8 straight titles, and they didn't win the year after they traded for the Hall of Famer, although they did win 2 chips with him subsequently. Those Celtics were already a dynasty without or without the influx of talent. Bailey Howell also isn't Durant-level talent.
The closest comparison I can find is when Moses Malone signed with the 76ers in 1982. Malone is an all-time great like Durant, was in his prime, and joined a very good team. The Sixers won 58 games, lost in the Finals the previous season, and featured a 32 year old Dr J, but no other Hall of Fame talent. The Sixers were VERY good, but weren't great until Moses Malone showed up for the infamous "Fo, fo, fo, fo" title run in 1983, which is widely considered one of the greatest teams in history.
Usually, these coalitions between all-time great player and all-time great team are formed when the wheels have already come off one or both entities like when Charles Barkley and later Scottie Pippen joined the 2-time champ Rockets in the late '90s, or when 40 year old Karl Malone joined the sputtering Kobe/Shaq Three-peat Lakers, or when a limited Bill Walton helped the great '85-'86 Celtics win a title. Like Durant – Barkley, Malone, and Walton were former MVPs.
No. This union is wholly unique. Between Steph and Durant, you have 3 MVPs, 10 All Star appearances, 9 All NBA selections, 5 scoring titles, and both belong to the 50-40-90 club. In the last 2 years, Klay Thompson and Draymond Green have both or either made the All Star team, All NBA teams, and All Defense teams. Dray is considered by many to be the most unique and versatile defender in the league. Their 5th wheel, Andre Iguodala, has been an All Star, All Defense, 2-time USA Gold Medalist, NBA FInals MVP, perhaps the best glue guy in the league, and the only one of their top-5 over 30 years old.
Nothing is guaranteed, and we've anointed pre-season, super teams-on-paper champs before, but I've never seen a team with a clear talent advantage over the field in my time watching basketball. This deal will certainly hurt their depth, but something about it doesn't feel right. It wouldn't even be possible if Steph Curry didn't have an unbelievably fortuitous contract for his stature, and the opportune timing of the salary cap ballooning.
I just don't want the NBA to be like baseball and the team I used to root for, the Yankees, who starting putting teams together like the fucking Avengers. I like great teams, even super teams, but this isn't the rich getting richer. This is Apple acquiring Google. This is too big to fail. I will cross my fingers that the competition will stay fierce and unpredictable as it has been in recent years.