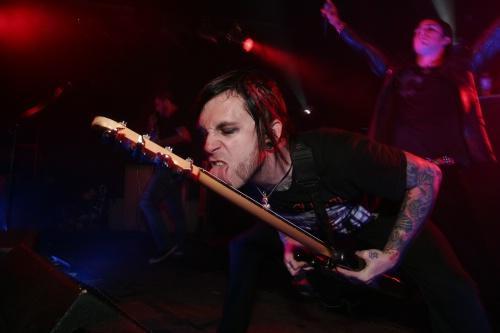 I am truly shocked and saddened to hear of my buddy Mick "Deth" Morris' passing. I wasn't aware of his heart condition. It's increasingly weird as the older you get, the more people you know die before their time.
I met Mick when 18 Visions opened up for Mushroomhead and Lamb of God at the Birch Hill Nite Club in NJ in 2001. He was always super cool, humble, affable guy. Although we never did extended touring with 18V, we got to do some spot dates together like Furnace Fest 2002, and a show later that year w/ Everytime I Die, Bleeding Through and Avenged Sevenfold opening.
18 Visions deserves credit for being a trailblazer. For better or worse, they brought style to hardcore scene. They wrote the script for bands like Motionless in White and Falling In Reverse to follow. And when 18V did it, they were playing with real hardcore bands, and it was not always cool with the status quo. That takes some balls.
We stayed in touch over the years as he started to work for Hatebreed, and even chatted about jamming together at some point. Unfortunately, it never happened. I was just enjoying his Instagram feed last night. This sucks. I'll miss you dude.