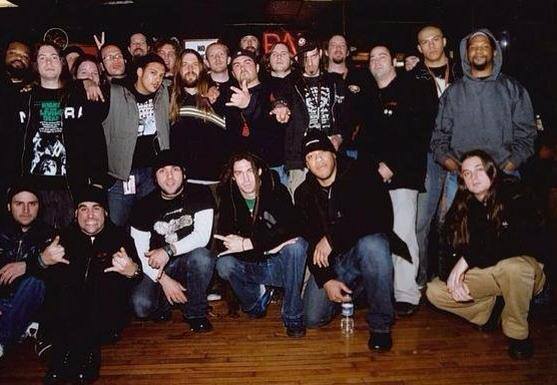 "This is the end!" This is the emphatic, anthemic line in the God Forbid opening track from the album IV: Constitution of Treason, which was released during the peak of our powers in 2005. In fact, it wasn't the end. The end came much later. At the time, it felt like we were invincible, destined for heavy metal immortality. And we were in the lower tier of the NWOAHM (or Metalcore or whatever you want to call it) in all metrics for determining the success or popularity of bands. If you look at album, ticket, and merchandise sales, Myspace friends, Youtube views, Facebook "likes", or the ever mystical buzz on the street, God Forbid was probably never half as big as any of the rest of the Big 4 of Quitters (I should trade mark this) including Bleeding Through, Shadows Fall, and now Chimaira. Knowing that, even we felt invincible. That's how intoxicating achieving any discernible success with your art can be. Shadows Fall and Chimaira hanging it up in the last couple weeks have brought an outpouring of sadness, shock and disappointment from fans. It seems like the end of an era, and maybe it is.
Hearing that these great bands are moving on makes me sad and disappointed, but not shocked. The truth is that amongst peers a good majority of our conversations have to do with figuring out how to stay relevant by finding new audiences, getting great tours, signing with the right label, writing the next game changing album, and more. Teetering on the edge of existence has been much of our collective realities for half of our careers. As the O.G. quitter, I'm here to explain why this is happening and why you shouldn't be surprised.
1.) It is supposed to happen
Everything goes in cycles. Rock-n-roll is the province on the young. Here's how it goes:
Group of teenagers start a band around high school as their hormones are raging, and the reality sets in that pretty soon they will be handcuffed to a desk and strangled by a tie for the rest of the lives. Sex + rage = Rock-n-roll. In reality, most bands hit their stride around ages 20-25, putting out their most potent and seminal records and touring throughout their 20′s, if they have any success. Whatever style you came up with begins to phase out and become passé right around the time you hit your 30′s. That's usually coincides with you thinking it might be kind of cool to start a family or move out of your parents house or own more than one pair of jeans.
For example, watch the C-level Hair Metal bands on VH1′s Metal Mania at 3am, and you'll witness a swath of has-beens who fell by the wayside. Look at the lineups for Ozzfest in 2000-2003 and it's a mass graveyard of Nu-Metal bands you probably don't ever remember like Twisted Method, Endo, Pulse Ultra, and No One. I could go on. Even Thrash Metal of the 80′s, which NWOAHM is compared to the most, saw its downturn, where many of the smaller acts disbanded due to the turning of the tide with the emergence of grunge in the 90′s. Speaking of grunge and alternative of the 90′s, even the big bands like Soundgarden, Smashing Pumpkin, Weezer, Faith No More and Rage Against The Machine broke up (for a time), just because they were over it. Hell, even Nirvana and Alice In Chains broke up because their singers died. Pussies.
2.) The world changed
The world always changes around any musical or cultural movement, but unlike Punk killing Disco or Grunge killing Glam Metal, our group of bands came up in a completely anomalous era. In that we existed right on the fulcrum of the pre and post internet ages. This fact had mostly downsides. Because we didn't exist in a world without internet downloading, which completely shrunk the size of the overall music economy, in turn we missed out on the million dollar record deals metal bands signing to major labels, gold and platinum sales benchmarks being commonplace. Hence, we missed the runoff from the river being bigger, which led to better tour support, artist development, more well produced albums and videos, etc. This also led to a bigger band peak. The bigger a band's peak is, the easier it is to survive when you hit a valley. This is why Anthrax, Testament, Megaeth, and Overkill probably still exist.
But on the other side of the shit sandwich, we also didn't grow up in a completely digital world. We had to learn on the fly how to run a Myspace page, or promote via social networking, or record demos or albums out of our bedrooms with no budget. Bands like Suicide Silence, Job For A Cowboy, and In This Moment got record deals from blowing up on Myspace. A band like Periphery has rewritten the book on how to promote your band, and capitalize on other revenue streams like online and on-tour lessons which subsidize your band business. Bigger bands had management and label people to help with the transition, but smaller bands had to figure it out on their own, with varying degrees of success. This was as Darwinian, sink or swim, a moment as we have had in recent history, comparable to subsisting during the transition into the electric age or horses to cars or radio to television. There is always collateral damage in evolution.
3.) NWOAHM has a youth dilemma
Jamey Jasta from Hatebreed once told me that your audience recycles every 3 years. What he meant was, you have to constantly replenish your fanbase or the band will die on the vine. People move on, have kids, become too busy to go to shows all the time, change tastes, etc. Young blood feeds the heavy music beast. God Forbid had this problem pretty early on when we decided to move away from the hardcore scene musically and alter the type of bands we toured with. I knew it would happen. Ever since around 2005, our audience stopped attracting younger fans it seemed. I think this problem plagued several of the bands in the genre, but not the more successful bands. All That Remains, As I Lay Dying, and Trivium had tons of young fans. Shadows Fall and Chimaira had a problem of attracting youth as well. Deathcore bands like Whitechapel and Scene bands like Asking Alexandria seem to have majority teenage fans. There is clearly a generational gap on several fronts that our bands could not figure out how to breach.
4.) It's possible we just weren't good enough
In the 2012 Olympics 100m Dash, the difference between being the gold medal winning, fastest man in the world, Usain Bolt, and going home with nothing was .17 of a second. This is how I explain not being good enough, regardless of what you're involved in. Not being good enough to be the winner, does not mean you aren't really, really good at your particular craft. John Boeklin from Devildriver and I came to this conclusion during a long bro-hang, music listening session on a European tour bus in 2007, when we were trying to figure out why our bands weren't as big as Lamb of God and Killswitch Engage. "Maybe they are just better", he said. I couldn't argue with him.
Fans of God Forbid or Devildriver or Chimaira don't want to hear this because it is 100% subjective. There is no definitive metric for what is "better" in terms of art. And, there is no justice that just because something is "better", it should be more popular. I do believe that music has become more of a meritocracy. The cream will rise to the top, and if you are on to something special, people will connect to it, share it, and it will spread organically. But you still need to have a good live show, run a solid business, and a have a few other stars align for it to work out. Nothing is given and there is no entitlement. To paraphrase the wise music industry writer Bob Lefsetz, there are only a few winners in today's world. There is only one Google, one Amazon, one Walmart. People just don't have time in the day to spend on the 8th best Metalcore band.
5.) It may have truly been the best thing
Being in a band, touring the world, playing music every day, living your dream can be one of the best possible life experiences. But it can also bring a multitude of poor quality-of-life elements that frankly get old with age. Working a "regular" job can be a bummer, but the peace of mind of knowing your rent is paid and food is in the fridge can be priceless. Poverty is mentally and emotionally damaging, and that fact is not acknowledged enough. Being home and being able to spend time with your loved ones can be priceless. Moving on to the next phase of their lives may have been the best choice they could have made for their well being. Even if that just means moving on to another band or musical situation. There is also a big chance many of these bands will return with time as history has shown.
In conclusion, I write this as I struggle to give professional music another go. And that's it: you have to be crazy to want to live as an artist or performer. Guilty as charged. I've risked my youth, financial well being, relationships, and any sense of normalcy. I can't explain the compulsion, but everyone isn't built like me. If it doesn't work out soon enough, I guess I'll have to face reality as well.
Become an "Average nobody. Get to live the rest of my life like a schnook."
Edited by Len Carmichael